Making a shared contribution
For more than 140 years, Funk has strived to protect companies' values for the future. Alongside these individual values, there is one value of shared importance among all of us: nature conservation. We must protect the natural world for the sake of our children and grandchildren. That's why Funk has decided to celebrate its anniversary by planting 1,000 mangroves for every year of its existence. Read on to learn more about what these trees do for climate protection and how Funk is symbolically setting a unifying example in Switzerland and Liechtenstein.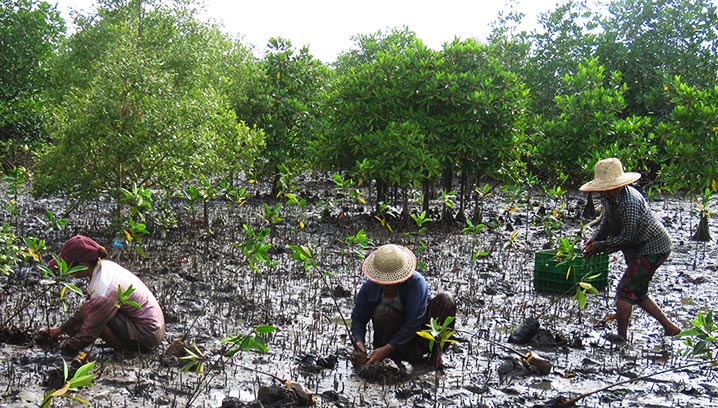 Mangroves grow in coastal regions and draw greenhouse gases out of both the sea and the air. │ Photo: Worldview International Foundation
140,000 mangroves for a better climate
One of the world's most pressing issues is climate change. The greenhouse gases produced by humans constitute one large problem here. Once released into the atmosphere, they contribute to the dangerous rise of the Earth's temperature. The consequences of this include the melting of the glaciers, rising sea levels and extreme weather. Some greenhouse gases, however, are absorbed by the ocean, leading to increased acidity in the water and putting countless species of marine animals at risk, such as corals. Plants can break down greenhouse gases and convert them into oxygen. Mangroves in particular are especially effective at this. These trees grow in tropical coastal regions and thrive in seawater. They not only clean the air, but also filter the sea – and they make ideal habitats for fish, birds and marine mammals. It is for this reason that Funk has decided to support a mangrove reforestation project and plant 140,000 seedlings.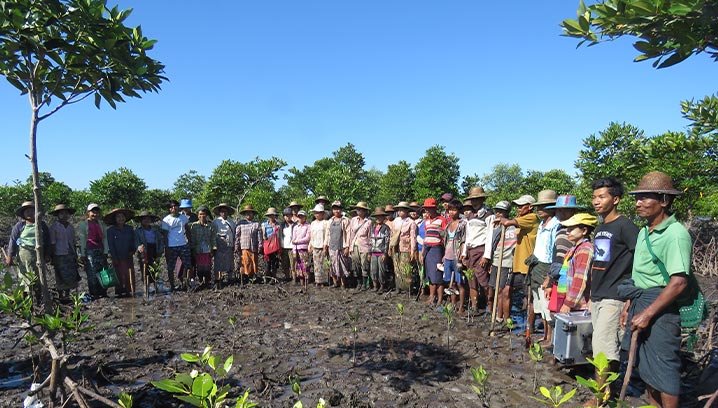 Rebuilding mangrove forests can also prevent natural disasters. │ Photo: Worldview International Foundation
Rebuilding the forests
The 'Mangrove reforestation and sustainable livelihood' project is committed to rebuilding the mangrove forests of Myanmar in Asia. It focuses on creating a sustainably cultivated mangrove ecosystem in the northern part of the Ayeyarwady Region. The project not only makes a valuable contribution towards climate protection but also serves to reduce the risk posed by natural disasters: mangrove forests form a natural protective wall against storm surges.
Planting mangroves is urgently needed, as the number of these trees around the world is rapidly dwindling. Mangrove forests are being cleared, for example, to create shrimp farms, rice fields or palm oil plantations. The trees are harvested for use as firewood or construction timber. Reforestation projects aim to counteract this commercial exploitation.
52 hectares of fresh green
To mark the occasion of Funk's 140th anniversary, 140,000 mangroves are being planted in the soil – or rather, in the marshy ground. This will result in a forest measuring 52 hectares, the equivalent of around 52 football pitches. The local community will be involved in the planting – this means job creation and contributes to the security of the livelihood of the local population. Further education and infrastructure in the region are also improved through the project.
Mangroves for Myanmar and the connection to Switzerland
The Funk Birthday on 21 May 2019 is also the kick-off event for all local Funk offices in Switzerland and Liechtenstein to start their own local "tree project". It is very likely that no mangroves will be planted. However, there will be a symbolic link to the 140,000 mangroves in a creative and sustainable way. We will keep you up to date on this page and on social media.
Social and economical sustainability at Funk